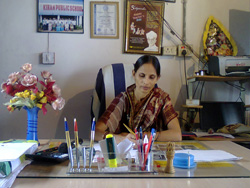 In this world everyone wants to be remembered, popular, loved, worshiped, praise, happy and what not, there cannot be many exceptions to these desires. Some are remembered by their work in some or other field. Some are popular, while some others are notorious. Now a days people have forgotten the ways in which one must be popular that is whether by good deeds or bad deeds. By hook or crook they want to be in fore front. See any field, religion, politics, family, education or any other field, the things are topsy turvy. How did it happen? Why does it happen? It is a matter of great concern.
People are remembered by their words and deeds. Here this school is a landmark in the life of many teachers and students. The golden memories are written with the pen of emotion on the pages of life of my husband Hon'ble Late Sri Jai Prakash Yadav who contributed to establish this school. I can't forget the contribution of my father-in-law and husband who encouraged me to establish this institution. I know very well that an institution lives by its well wishers, members and by their memories. The memories of my husband are always with me and inspire me to do better for the sake of K.P.S.
School is a place where the future of the nation is being built, the destiny of our country being shaped. It is the perfect ambience where the seeds of discipline and devotion are planted and fostered into fruition. This is exactly what K.P.S is bound to do.
K.P.S is dedicated to my husband Hon'ble Sri Jai Prakash Yadav who is gone but always lives in my heart; it is also dedicated to all of our well wishers and one who are directly or indirectly a part of this institution- K.P.S.
It is my desire always to provide maximum possible facilities to our students and staffs for their proper growth and development.
I shall always follow the foot prints of my husband. My husband is not with me but he never makes me feel that I am without him.
Co-operate and guide us so that we may proceed on the path of success to fulfill his dream.
Thanks,
Kiran Prakash
Managing Trustee & Chairperson, SMC
K.P.S, Madhepura